Yes I've been away, but no I'm not gone. I've been busy with my work, which is good because it means that things are finally moving. This also means that I have to schedule myself more carefully so that I don't become overwhelmed and let things slide through the cracks; like this blog.
There are a lot of BadAss Chicks in movies nowadays. While men still dominate as the lead in action flicks, these ladies defiantly kick-ass and hold their own. This is just my own Top Ten list of BAC characters in movies I've actually seen, so if your favorite female lead isn't on this list I just probably haven't gotten around to seeing the movie yet. Leave your favorite BAC movie character in the comments below!
Here are my favorite Top Ten BadAss Chick movie characters:
1. Sigourney Weaver as
Ellen Ripley
in
Alien
2. Linda Hamilton as
Sarah Conner
in
Terminator
3. Angelina Jolie as
Lara Croft
in
Tomb Raider
4. Uma Thurman as
Beatrix Kiddo
in
Kill Bill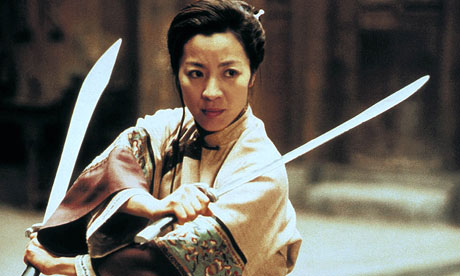 5.
Michelle Yeoh as Yu Shu Lien in Crouching Tiger Hidden Dragon
6. Carrie-Ann Moss as Trinity in The Matrix
7. Milla Jovovich as Leeloo in Fifth Element
8. Charlize Theron as Æon Flux, Æon Flux
9.
Geena Davis as Morgan Adams in Cutthroat Island
10. Carrie Fisher as Princess Leia in Star Wars